CARBOXYLATE CO-POLYMER FOX-8H
CARBOXYLATE CO-POLYMER FOX-8H
Publish: 2015-07-07
Product: CARBOXYLATE CO-POLYMER FOX-8H
Description:
FOX8H is a free flowing, spray dried powder of new generation polycarboxylate polymer, used as a superplasticizer for cement based materials. It is also an excellent dispersion plasticizer suitable for gypsum, ceramic and other mineral materials.
Special features:
Comparing to naphthalene and melamine based water reducers, FOX-8H Poly-carboxylate superplasticizer has superior characteristics of
- High-efficient water reduction up to 30%
- Excellent stability, providing long working time
- Unique homogeneous plasticizing property,thus preventing segregation and bleeding
- Good disperser for various types of cement and gypsum and minerals.
Application areas:
- Concrete
- Self-levelling
- Structure grout
- Cable grout
- Repair mortar
- Floor screed / thin-overlay
- Cement coating / paint
- Gypsum, ceramic products
- Products containing silica fume, silica flour,pigment and other ultra-fine particles
- Architectural products
Dosage:
The recommended dosage of FOX-8H for various applications is 0. 2 %to 0.3% of cementitious binder.
Compatibility:
Do not use FOX-8H with additives containing naphthalene sulfonate. Unreliable rheologic behaviours may be experienced.
Package:
25kg cardboard drum with plastic bag.
Storage:
The product may absorb moisture and should be stored in day area.
Shelf life:
The shelf life is 12 months in unopened drum. Opened bags should be resealed and used within 60 days.
Handling:
FOX-8H is a weak alkaline powder. It showsnegligible toxic, hazardous, and corrosive.
Comprehensive instructions are given in the Material Safety Data Sheet.
Specification: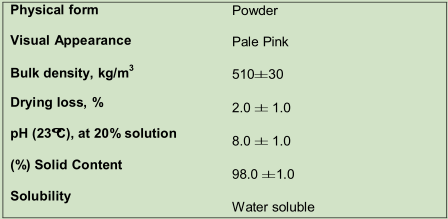 Performance Data: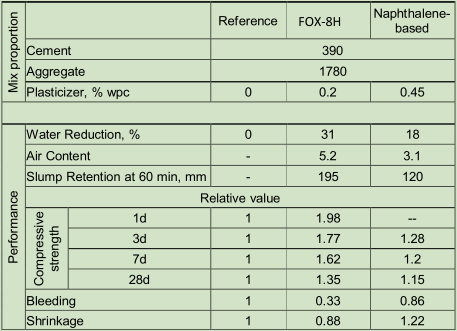 The above information and recommendations are based upon our experience and are offered merely for advice. They do not absolve the consumer from making his own tests. their representatives or distributor organizations have no control over the condition under which CARBOXYLATE CO-POLYMER FOX-8H are transported, stored, handled and used. Responsibility for damage arising from the use of our products cannot be derived from the recommendation given. The observance of any intellectual property rights of third parties is the responsibility of the consumer in each case. Technical information may not be passed on to any third party without our previous consent.