ANTIOXIDANT 2246
ANTIOXIDANT  2246  
Publish: 2015-06-24
Product: ANTIOXIDANT 2246
CAS NO.:119-47-1
Chemical name: 2,2'-methylene bis(6-tert-butyl-4-methyl-phenol)
Molecular Formula: C23H32O2
Molecular Weight:340.5
Constitution Formula: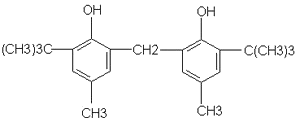 Appearance: White crystalline powder
Application: It is a high-efficiency non polluting Antioxidant, applicable to the manufacture of synthetic rubber, latex and natural rubber, being one of excellent phenol Antioxidants. It is applicable to light colored or colored rubber product. In plastic industry, this product can prevent the thermal aging and light aging of polyester, polystyrene, ABS resin, and cellulose resin with the dosage of 0.5-1%.
Toxicity and safety: It can be safely handled without any irritation to the skin.
Packing: Packed in cardboard drums lined with plastic bags with the capacity of 25 kg or according to customers' demands.
Storage: It should be stored in a close system and kept in a dry, close and shade place.
Quality Standard:
| | |
| --- | --- |
| Index | Top Grade |
| Appearance | White or light yellow powder |
| Melting point::°C≥ | 120 |
| Ash content :% ≤ | 0.5% |
| Heating loss:%≤ | 0.5% |
| Fineness(100mesh Sieve Residue ) | 0.2% |